09/15/10
Inside XDL Storyline
In the mid 1990s stunt riding emerged as an aggressive street phenomenon that distinguished itself through frequent brushes with the law, mayhem and chaos. It took over a decade for the sport to find itself and in 2006 the XDL Championship Series was born. In the five seasons since then, XDL has vaulted itself into the ranks of the fastest-growing action sports in America, highlighted by its first demonstration in the 2010 Summer X Games. Inside XDL is a behind the scenes look at the 2010 season as our cameras follow the top contenders in their chase for the national championship. Inside XDL features drama, action, some of the best motorcycle riding you've ever seen and of course the obligatory crashes.
Air Schedule - Tuesday nights after "The Daily Line"
Episode 1: October 12 - Midnight EST, 9 pm. PST
Episode 2: October 19 - Midnight EST, 9 pm. PST
Episode 3: October 26 - Midnight EST, 9 pm. PST
Episode 4: November 2 - Midnight EST, 9 pm. PST
Episode 5: November 9 - Midnight EST, 9 pm. PST
Episode 6: November 16 - Midnight EST, 9 pm. PST
Bikers For Babies Freestyle Demo Sunday Sept 19th. Show times 10am, 12pm, & 2pm.
http://www.bikersforbabieskc.org/
Big Thanks to Smithers Customs, FUEL, & Liberty Cycle Center for sponsoring my Freestyle Exhibition!
8 a.m.-3 p.m. Music: The Rev. Jimmie Bratcher, Teacher'z Pet, The Boxley Brothers
Motorcycle Stunt Rider "Crazy" Dan Jackson, 4X National Champion
Vendor Expo – Garages C and D
People's Choice Bike Show – Register 9 a.m. to 1 p.m.
Bikers for Babies® Commemorative T-Shirts – Garage C
Bikers for Babies® 8″ x 10″ Commemorative Photos ($10) – Victory Lane
Join the ride to save babies!
16th Annual Bikers for Babies®
Sunday, September 19, 2010 • Kansas Speedway
Thanks to the generosity of thousands of riders and numerous business partners, the Kansas City Bikers for Babies is the largest and most successful March of Dimes motorcycle ride in the nation. In 2009, riders and partners raised more than $693,060 in support of babies! Since it began in 1995, Bikers for Babies has raised more than $4.36 million in Kansas City.
Funds raised by Bikers for Babies support local research grants focused on issues related to premature birth and community programs such as NICU Family Support at Overland Park Regional Medical Center, Saint Luke's Hospital and Stormont-Vail Regional Medical Center in Topeka. Bikers for Babies is presented in Kansas City by Farmers Insurance and 98.9 The Rock and sanctioned by the American Motorcycle Association.
SIGN UP TO RIDE! Register online now!
All brands, styles, makes and models of motorcycles are welcome.

Thanks for the support!
Dan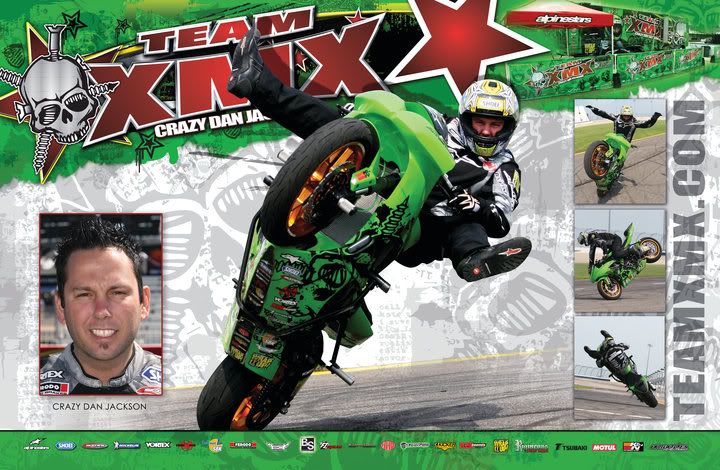 09/08/10
I created a Fan Face for some fun during the final round of XDL in Indy! Well since then my face has started popping up all over the US. Ive decided to make a Where's Dan Jackson game out of it. Let the fun begin…
Where's Dan Jackson now?