12/31/11
I am pleased to announce that, effective immediately, I will be joining the E3 family, now being represented by Josh Berman and his team. E3 has a proven track record and great reputation in sports management and especially within my sport of sportbike freestyle. Just as I always push to be the best rider I can be, I also want to run the best program I can for myself and my sponsors. Josh and his team will manage all aspects of my career from sponsorship negotiations and activation (don't worry, everyone will still have as much access to me as they want – we just have more support) to my schedule and bookings to helping develop the most professional program possible and provide the most exposure for my sponsors, all while allowing me to continue to focus on my riding and being the best rider I can be.
Dan Jackson
Josh Berman
Everything Events & Entertainment
(on behalf of Dan Jackson)
973-338-6995 x-111 (NY Office)
323-230-5527 (LA Office)
702-448-3025 (Vegas Office)
866-390-3453 (Toll Free)
973-475-4575 (Fax)
Comments Off
06/01/11
NASCAR PreRace Pit Walk Freestyle Demo - Sunday June 5th
9am-10:15am
Pit Road
Comments Off
02/22/11
Daytona Beach
Once again we start the year at Daytona, but we've made some important changes that we think you'll love. We are now on the SECOND weekend of Bike Week, you know, the one when y'all ride down there anyway. And we are hosting a 4-day sport bike festival that includes three types of riding (XDL, XDL, Freeriding), custom bikes, clinics with the pros, music, girls, free SWAG and more.
Our custom bike show is put on in conjunction with our partner Bling Rockets. If you would like more info on how to participate, please visit http://brxdltour.com There is no cost to enter. We just want you to come out, represent and have a good time.
Details:
March 9-12, 2011
To download the 2011 Daytona event schedule as a PDF, please click here.
Daytona International Speedway
1801 W. International Speedway Blvd.
Daytona Beach, FL 32114
Turn 1 Plaza – Exit on Kennel Club
For directions please visit: http://www.daytonainternationalspeedway.com/Fan-Info/Getting-Here.aspx
Ticket prices are:
Wednesday: $5
Thursday: $5
Friday: $10
Saturday: $20
Weekend Pass: $30
Kids 12 and under are FREE. The event is RAIN OR SHINE. NO REFUNDS.
To purchase tickets please call 1800-PITSHOP or visit http://www.daytonainternationalspeedway.com/
Volunteers: If you are looking to get some event experience and are serious about this, we have a few limited spots available. Send an e-mail with your name, your age, what you are good at, what you presently do, what you'd like to volunteer for and what days you are available to: info@xdlshow.com
We are also looking to hire XDL promo girls for March 9, 10 and 11. If you are interested in representing XDL please send e-mail to: info@xdlshow.com
General Inquiries: For general questions please e-mail info@xdlshow.com
Marketing Inquiries: For marketing inquiries, please contact randy grube at randy@xdlshow.com
Vendor Information: For vendor information, please contact Julie Dziak at jdziak@daytonainternationalspeedway.com or 386.681.681
Media Credentials: If you would like to request media credentials please submit the 2010 online form at: http://www.xdlshow.com/events/2010/01/media.html
Comments Off
Welcome to the 2011 XDL Season!
We have an amazing year in store for you that includes a killer schedule, a return of the successful show Inside XDL and much more. We are also working on an overhaul of our web site, which means we haven't been updating this site. We apologize for the lack of new info on 2011 but that will be posted on the new site in about a month. Meanwhile, we are posting all the relevant event info on the home page of this version of the site. Thanks very much for your patience.
2011 Schedule
Daytona Beach, FL - During Daytona Bike Week - @ DIS - March 9 - 12
Phoenix, AZ - During AZ Bike Week - @ Downtown Scottsdale - April 1 & 2
Nashville, TN - XDL Freeride Festival - @ Nashville Superspeedway - June 10 & 11
Monterey, CA - With MotoGP - @ Downtown Monterey - July 22 & 23
Indianapolis, IN - With MotoGP - @ Downtown Indianapolis - August 26 & 27
Comments Off
09/15/10
Inside XDL Storyline
In the mid 1990s stunt riding emerged as an aggressive street phenomenon that distinguished itself through frequent brushes with the law, mayhem and chaos. It took over a decade for the sport to find itself and in 2006 the XDL Championship Series was born. In the five seasons since then, XDL has vaulted itself into the ranks of the fastest-growing action sports in America, highlighted by its first demonstration in the 2010 Summer X Games. Inside XDL is a behind the scenes look at the 2010 season as our cameras follow the top contenders in their chase for the national championship. Inside XDL features drama, action, some of the best motorcycle riding you've ever seen and of course the obligatory crashes.
Air Schedule - Tuesday nights after "The Daily Line"
Episode 1: October 12 - Midnight EST, 9 pm. PST
Episode 2: October 19 - Midnight EST, 9 pm. PST
Episode 3: October 26 - Midnight EST, 9 pm. PST
Episode 4: November 2 - Midnight EST, 9 pm. PST
Episode 5: November 9 - Midnight EST, 9 pm. PST
Episode 6: November 16 - Midnight EST, 9 pm. PST
Bikers For Babies Freestyle Demo Sunday Sept 19th. Show times 10am, 12pm, & 2pm.
http://www.bikersforbabieskc.org/
Big Thanks to Smithers Customs, FUEL, & Liberty Cycle Center for sponsoring my Freestyle Exhibition!
8 a.m.-3 p.m. Music: The Rev. Jimmie Bratcher, Teacher'z Pet, The Boxley Brothers
Motorcycle Stunt Rider "Crazy" Dan Jackson, 4X National Champion
Vendor Expo – Garages C and D
People's Choice Bike Show – Register 9 a.m. to 1 p.m.
Bikers for Babies® Commemorative T-Shirts – Garage C
Bikers for Babies® 8″ x 10″ Commemorative Photos ($10) – Victory Lane
Join the ride to save babies!
16th Annual Bikers for Babies®
Sunday, September 19, 2010 • Kansas Speedway
Thanks to the generosity of thousands of riders and numerous business partners, the Kansas City Bikers for Babies is the largest and most successful March of Dimes motorcycle ride in the nation. In 2009, riders and partners raised more than $693,060 in support of babies! Since it began in 1995, Bikers for Babies has raised more than $4.36 million in Kansas City.
Funds raised by Bikers for Babies support local research grants focused on issues related to premature birth and community programs such as NICU Family Support at Overland Park Regional Medical Center, Saint Luke's Hospital and Stormont-Vail Regional Medical Center in Topeka. Bikers for Babies is presented in Kansas City by Farmers Insurance and 98.9 The Rock and sanctioned by the American Motorcycle Association.
SIGN UP TO RIDE! Register online now!
All brands, styles, makes and models of motorcycles are welcome.

Thanks for the support!
Dan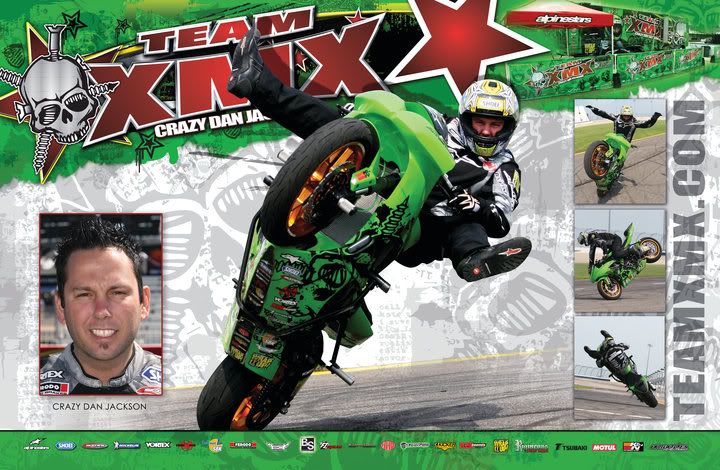 09/08/10
I created a Fan Face for some fun during the final round of XDL in Indy! Well since then my face has started popping up all over the US. Ive decided to make a Where's Dan Jackson game out of it. Let the fun begin…
Where's Dan Jackson now?
08/12/10
The Righteous Stunt Clutch is an easy pull style clutch assembly that is milled completely out of billet aluminum. The RSC is designed very similar to the other easy pull style clutches on the market, but with a few changes that make the Righteous Stunt Clutch virtually bulletproof.
The three cable positions usually found on an easy pull style lever are eliminated, leaving only the one "easiest" pull setting. The swivel adjuster on the perch has also been eliminated, leaving you with a unit that is made out of MUCH stronger material with a much more straight forward design. We have eliminated ALL of the weak points of the competing easy pull assemblies, and have also closed up many of the SLOPPY tolerances found in them.
The perch has been designed with a rear mounting cap, which is also a much stronger design than the competition. The perch cap is also designed to be mounted flush on top, eliminating the unsightly "gap" found in most rear mounting assemblies. The ENTIRE unit is actually thicker and beefier than the competing easy pull units, while still keeping in mind the tight tolerance we encounter around our handbrakes as stunters.
The basic Righteous Stunt Clutch comes with a delrin bushing pressed into the lever. Delrin is an excellent material used in many bushing applications. Delrin also has a "self lubricating" quality to it, similar to Teflon. We use a bushing in the base model RSC to keep costs down while still providing silky smooth, buttery operation. An extra bushing is included with your order. We WILL be offering the bearing as an option, however, in the RSC Ultimate lever very soon. This assembly does have a lever distance adjustment set-screw to personalize your setup. All RSCs are assembled with stainless steel hardware.
The first run of Righteous Stunt Clutches are ONLY available in the "shorty" lever option, with the delrin bushing. Full length levers and bearing options will be available soon, as well as anodizing.
All orders are shipped via USPS Priority Mail w/ delivery confirmation.
Order yours today!
http://righteousstuntmetal.com/
08/10/10
News 8.9.10
Lots of exciting news from TeamXMX.com this month.
The week spent in California for X-Games was action packed! Thinking it would be a relaxing trip only meant as a Demonstration event, I was wrong. The week trip included TV interviews, Magazine photo-shoots, and some gnarly riding at the LA coliseum. Witnessing X-Games history such as Travis Pastrana taking home 2 gold medals, double back flipping his final round after he already won gold and the Paris Rosen front flip attempt that went dirty! Glad he is okay!!! (iPhone video clip I took of the crash - http://www.youtube.com/watch?v=qNuRgvaSfyo)
I feel the X-Games demo vent for XDL & Sport bike Freestyle was an epic event that will def go down in the books as history. The guys at ESPN were totally stoked on how organized and professional the sport has evolved into. It sounds like we will be apart of some big future events later down the road!!!
Big thanks to my Mom, little brother Joey, and cousin Sara for making the trip out to California, offering their loving support! They have always had my back pursuing my career in motorcycle riding!!! Check out "Crazy Sue" sporting my Alpinestars Sniper Jacket on board the TeamXMX Kawasaki ZX6R!! LOL
I want to give a shout out and a big thanks to Alpinestars, Leo Vince Exhausts, & Strange Music for all the additional support, funds, and swag for my trip!
Alpinestars - www.alpinestars.com
Leo Vince - www.leovinceusa.com
Strange Music - www.strangemusicinc.net
Be sure to check out this month's issue of Throttle Nation magazine for Chanel's Honey Pot article. www.throttlenation.com
Chanel has a busy schedule this month as well! Check out more updates from Chanel on her face book fan page link listed below.
Chanel Jones ~ Model / Actress - http://www.facebook.com/profile.php?id=570707582#!/pages/Chanel-Jones-ModelActress/122426071134933?ref=ts
Crazy Dan Jackson fan page - http://www.facebook.com/pages/Crazy-Dan-Jackson-Fan-Page/110473112301931?ref=ts
Other events she will be looking forward to this month…
HPT Track Day - This past weekend I took her to Heartland Park for her first motorcycle track day. She loved it and is ready for an upgrade from her Kawasaki Ninja 250.
48 Hour Film Festival - She will be filming a 48 hour film project this week - "The Enumerators" for Devinshire Jamestown pictures.
Monster Energy TORC series - She will be in Chicago working as a Monster Energy girl for the TORC racing series.
XDL Show - Indianapolis, IN - She will working as Miss XDL during the final round of the XDL series during MotoGP weekend downtown Indianapolis.
MotoGP - Indianapolis, IN - Working for Ducati as a personal umbrella girl for Nicky Hayden. She also works for Umbrella Girls USA and will be working as an umbrella girl for Roger Lee Hayden as well.
Another busy month for both of us, looking forward to seeing some of you in Indy!!!
Stay tuned for more news & updates by logging on to www.teamxmx.com
Thanks again for all your support!
Dan
07/23/10
Stuntride Magazine is the ultimate motorcycle stuntriding lifestyle based publication! We cover the Streets as well as the Competitions! The professional riders as well as the amatuers! Events, Pro stuntbike builds, Parts, apparel and dvd reviews and anything else you can talk us into! Stuntride Magazine is currently published 4-6 issues per year.

The Stuntride Brand is your ticket to the world's fastest growing action sport. Motorcycle Stuntriding aka Sportbike Freestyle. The stuntriding scene has evolved from street riding hooliganism into a full blown sport with competitions held around the world. At the forefront of these competitions is the XDL Sportbike Freestyle Championships. Staying true to this lifestyle that we love, Stuntride.com has many outlets for you to explore, we hope that you enjoy your stay here.
Stuntriding Forums and Messageboards - Stuntride TV - Stuntride Magazine - Stuntride Blog - Stuntride Apparel
07/22/10
Stealth Rider
Hollywood stunt rider and SuperBikes! host Jason Britton returns to SPEED with a new prime time series entitled Stealth Rider, scheduled to premiere on July 21, 2010 at 8pm ET/PT.
Jason Britton is igniting his insatiable passion for riding by returning to his roots and shooting the ultimate stunt film. Jason and his team jump in the bus and tour the country to "steal" shots in front of the most iconic backdrops they can manage. Planned like a robbery but carried out safely and professionally, Jason and his team get stunt riding shots in unimaginable locations like the art museum steps of Philadelphia; the Las Vegas Strip; the Golden Gate Bridge; the US Capitol Building; Hollywood Blvd and the French Quarter of New Orleans, to name a few. Each episode culminates with a mini-movie comprised of the stunt footage captured at that week's location.
07/21/10
"KC Tea" is Tech N9ne's second video off of his new Collabos album, "The Gates Mixed Plate", set to release on July 27, 2010. Presale available now at strangemusicinc.net. Executive Producer: Travis O'Guin, Director: Dan Gedman/Liquid9
Video features model / actress - Chanel Jones
Shoei just sent me a new RF-1100 just in time for the X-Games Demo. This new helmet is so light & comfortable! I cant wait to put on the new lid and hit up the spot today! The RF-1100 new design features 3 intake vents and 6 exhaust vents for better ventilation. The new aerodynamic design and vent system will make my practice sessions way more comfortable in this brutal heat! I cant wait to Grip N Rip with this new RF-1100! Check out the new RF-1100 at www.shoei-helmets.com
Shoei RF-1100
Building on the strongest pedigree in the motorcycle helmet business, SHOEI is proud to introduce the all-new RF-1100. Since its 2003 inception, the RF-1000 has enjoyed great success, but that didn't stop SHOEI's world-class development team from throwing out the molds to build a brand-new helmet from scratch. Combining customer and dealer requests with advanced technology, modern testing practices, and 50 years of helmet-building experience, SHOEI is pleased to deliver the finest sport-touring helmet that money can buy. The all-new, groundbreaking RF-1100–where aggressive styling meets SHOEI's unrivaled attention to detail, and the evolution of perfection is once again met.
Variable Ventilation System
The RF-1100's new shell features three (3) intake and six (6) exhaust vents in total. Wind tunnel testing revealed that the optimal location for exhaust vents is actually much higher on the rear portion of the helmet's shell than originally thought. Better ventilation and aerodynamic performance is achieved by separating the spoiler and exhaust vents. The exhaust vent holes have been relocated to take better advantage of negative pressure suction, dramatically improving exhaust ventilation. SHOEI's variable ventilation system allows riders to select the perfect balance between airflow and silence.
Q.R.S.A. (Quick Release Self-Adjusting) Base Plate System
CW-1 Shield
AIM+ Shell Construction (Snell M2010-Approved)
5 Shell Sizes
Shell-Integrated Spoiler
Variable Ventilation System
Dual-Layer EPS Liner
Interior System
Chin Curtain
Breath Guard
5-Year Warranty
07/20/10
7.20.2010
Bring on the press!!! Yeah that's right!!! 2 Magazine Covers in 1 Month. Previously I sent out an email earlier this month announcing that I was on the cover of Stuntride Magazine. Now I'm proud to announce that I'm on the cover of another major publication magazine - Throttle Nation. Inside this magazine I'm featured in a 6 page spread titled "Top Dawg" - Crazy Dan Jackson. Ive attached the PDF. Throttle Nation Magazine is available now on news stands and can be found in Barnes & Noble, Borders, Hastings, Copper fields, Joseph Beth, Ingram Bookstores, Books a Million, Suburban News, 7-11 stores, and US Military Bases. For subscriptions please visit on line http://www.throttlenation.com/
My blog: http://myblog.teamxmx.com/
TeamXMX News: http://teamxmx.com/news.html
Thanks for all your support!
-Dan
07/17/10
Stuntride.com 7.17.10
XDL Championship Series To Perform Demonstration at X Games 16
The XDL stunt riding demo will be at the LA Coliseum on Thursday, July 29th, as an official part of X Games 16. The XDL program will begin at noon and be in Lot 4. This lot is beside the swimming stadium off of MLK blvd at Hoover St. We will go get some pics this afternoon.
According to our sources at X games this area is an exhibitor based area and should be packed. It opens at noon and admission to this area and XDL is free!!
We havent gotten any info on parking yet. So assume you have to pay!
According to rumors about XDL we know that its just a demo but we think that they are going to run an amended version of their full events competitions. These are normally..
1. FMF Cup
2. Speed & Strength Sickest Trick
3. K&N Circle Challenge
4. Aprilia All Star Challenge
5. Sartso Womens Cup
6. Freestyle Burnout
7. Battle of the Brands
One last thing. We saw a printed email from XDL Host and competition director Thomas Evans to XDL Founder Randy Grube. While we cannot confirm what the email was about, we did notice a list of names that included some of the sports top stars such as:
Bill Dixon
Teach McNeil
Ernie Vigil
Dan Jackson
Joe Dryden
Aaron Colton
Luke Emmons
Nick Apex
Darius Khashabi
Alex Flores
Tony Carbajal
Lin Savage
Rick Hart
Kyle Rapport
07/16/10
I stopped by the Strange Music headquarters and they hooked me up with all sorts of SWAG for my cali trip next week! The RV is stacked with promo items for the new Tech N9ne "Mixed Plate" CD that will be released July 27th, 2010. Merch, CD's, Stickers, Flyers, I have it all! Check out the new Strange Music hat! Im rockin it after a brutal practice session in the heat! 95 DEGREES & HUMID!!!!!!!!!! Gotta love the midwest!!!
To see all Strange Musics merch, visit their online store at http://strangemusicinc.net/
Tech N9ne Collabos - "The Mixed Plate" in stores July 27th
Check out the OG music video on youtube! "O.G." is Tech N9ne's first video off of his new Collabos album, "The Gates Mixed Plate", set to release on July 27, 2010. Presale available now at strangemusicinc.net. Executive Producer: Travis O'Guin, Director: Dan Gedman/Liquid9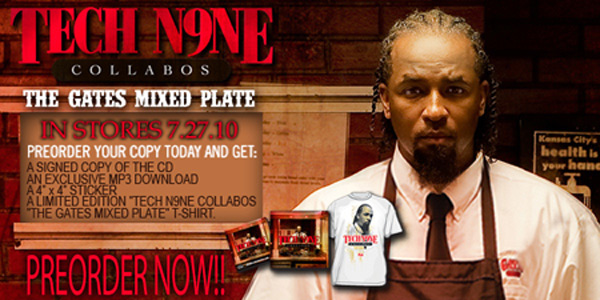 07/12/10
News 7.12.10
Check out this months Stuntride Magazine featuring yours truly! 5,000 copies will be handed out during this years 2010 X-Games Demo! I will be in the Stuntride Magazine booth signing autographs all weekend long. If your attending please stop by and say hi!
-Dan